DIY: 3 Steps to Start Bible Journaling as Part of your Daily Routine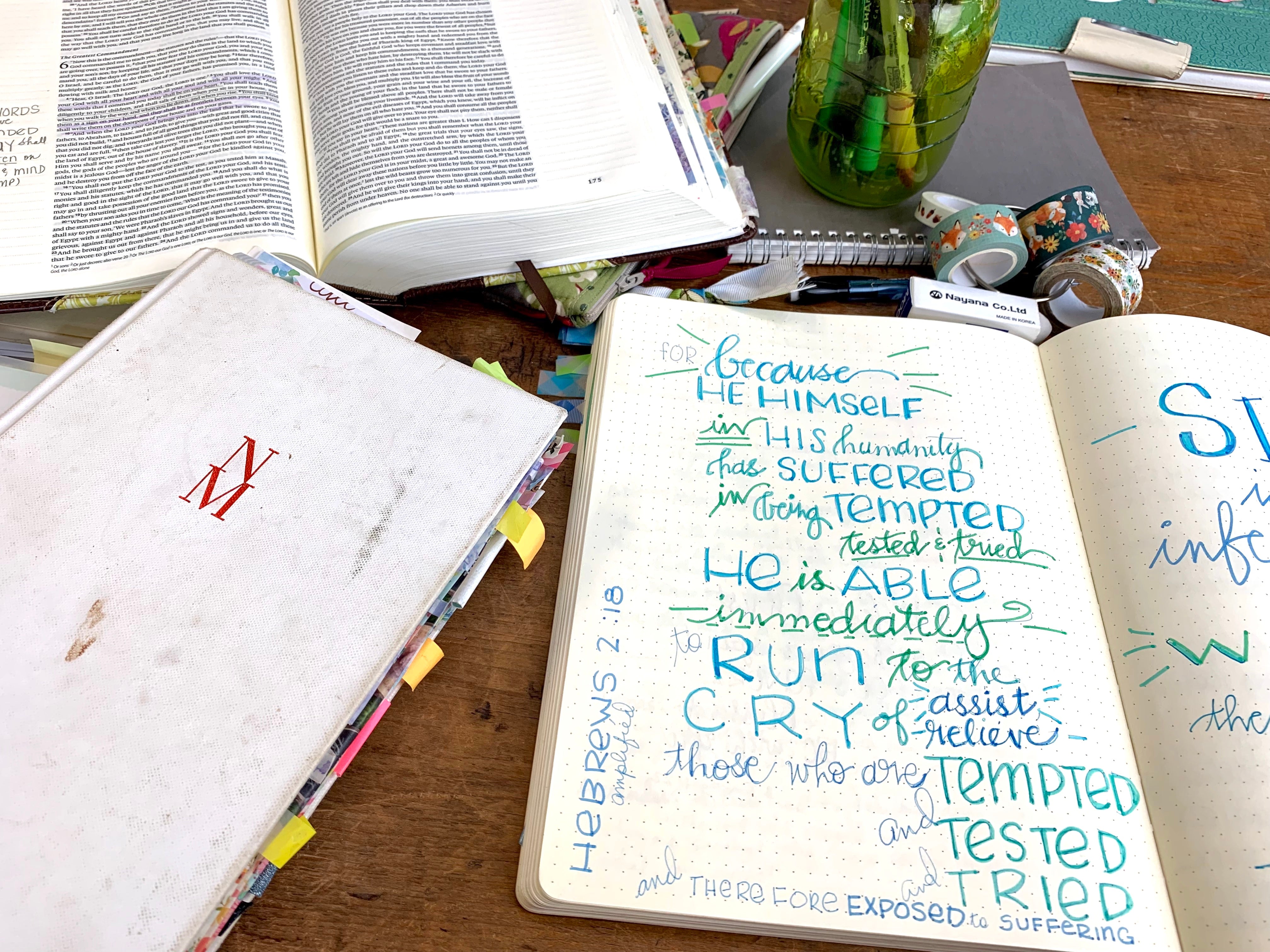 DIY
3 Steps to Start Bible Journaling as Part of your Daily Routine
Welcome to my NEW From the Heart Art Blog, where I'll be sharing weekly inspiration to share, uplift & encourage you on your journey!

From stories behind the art I create to behind-the-scenes looks into the creations process to DIY tutorials and more... I will be posting a new blog post every single Wednesday to share, uplift, & encourage you on your journey! Welcome to the blog & I can't wait to connect with you through this new blog space every single week. If you want to know when new blog posts go live, make sure to join our exclusive email newsletter community! Pssst... as part of my exclusive email subscriber community, you'll also get first looks into sales & specials, too!
I have stacks of notebooks, sketchbooks, notepads, and even some "real journals" that I have used throughout the years to record Bible verses, sermon notes, and songs.  I've taken many of those verses and turned them into prayers, praying them back to my Father.
They Tell A Story of My Faith Journey...
They tell a story of my faith journey.   If you were to peek inside one, you would find some of the same verses written over and over and over again.  The repetition has been like a secret tool to help engrain the important Truths onto my heart & mind.
Did you know that many of the From the Heart Art designs were conceived and born in those journals?  So many of my designs are actually me illustrating the Truths and preaching them to my own heart, while hoping they will also encourage other hearts as well.  Not only has writing these scripture verses out over and over been an important part in my spiritual growth, I think it is also something that is important to God.  
How To Do "Word Searches" in Your Bible
It is my personal belief that He knows His children need to write these important things down!  There are so many verses in the Bible where God is giving instructions to "write down" His words or record an event demonstrating His faithfulness.  Do you ever do word searches in your Bible?  Give it a try sometime to see how often the word "written" or "write these words" are mentioned in the Bible.
3 Steps to Start Bible Journaling as Part of your Daily Routine
STEP #1 THE WHY:  Recognizing the Value & Importance of Writing 
I am a visual learner.  I learn best by writing down important information... breaking it down in outline form takes it a step further, color coding is icing on the cake, and repetition seals the deal!  Once I finally realized that I remember best after I write it down or see it written (and that applies to my spiritual life as well), I made a point to use writing as a tool to help me learn and remember. How about you?
It was a big spiritual marker for me when I realized I had memorized the fruits of the Spirit by painting it over and over on the clay pots I had been painting to sell when I first started From the Heart Art.  You can read more of that story in a previous blog post HERE.  Learning this about myself lit a fire in me to put scripture everywhere possible, for my own benefit, but to also help encourage others as well! 
STEP #2 THE HOW: Gather the Tools & Keep Them Handy
Bible, Paper & a writing utensil are all you really need to get started.  It might take a little time to learn your favorite paper and your favorite writing utensils, but I would love to share with you what I enjoy using!  The main thing is to keep them handy & available. I even have a specific chair that I like to sit in, so I keep a basket nearby with my supplies.
Bible:  I have so many Bibles and it's hard to choose a favorite!  I have currently been enjoying using my ESV Journaling Bible.  I use the column they provide for notes, but I will be honest….it's just not enough room for me!  So I always have additional paper in the form of a notebook or journal.
Paper: I like to have it handy wherever I am.  Dotted paper is my favorite and the EXCEED Dotted Journal is my favorite journal for journaling at home.  It is not a necessity, because you could really use any type of paper, lined, no lines, graph paper...even the back of an envelope or a napkin will work when that's all you have!  
I have 2 other sizes of journals that I try to keep on hand.  I have a Travel Journal by Jane Davenport that I use for my church journal.  It came with one insert, but I've added a lined journal insert and a dotted journal insert and I added her pencil pouch to mine.  I like being able to have everything I need right there in one cover.  I like that you can customize the journal to fit your needs.  This size journal is easy to grab with my Bible to head off to church.   I use it to record sermon notes, to illustrate scriptures and even the music we sing each week.  There is power in reading and meditating on words to many old hymns & Christian songs. 
I also keep small purse size journals or notebooks on hand in my purse and backpack. These come in handy when waiting somewhere.  Once you start getting in the habit of recording verses and prayers and music, you will want to keep paper nearby all the time!
Writing Tools:  You can start with what you have on hand.  I will share some of my favorites though.  The very top of the list is a mechanical pencil and a good eraser.  I like all pencils, but my favorite eraser is a Moo brand eraser.  It is great with watercolor paper, mixed media paper and writing paper. 
My life changed when I was introduced to erasable pens and markers! FriXion is my favorite.  They offer pens, markers and even highlighters that are ERASABLE!  I have found them at our office supply store, Michaels and Amazon. 
I LOVE color coding.  Here's an example of how I use color: After I write the verse out in pencil, I will go back and color code the words that apply to God with one color, and the words that apply to me in a different color.  This really helps me to see the verse in that way.  There are so many ways to use color to break down a verse, I encourage you to give it a try! 
I also have several pencil pouches full of my erasable pens & pencils.  I keep one in my purse, another around my favorite chair, also one or two out in the studio….you get the idea, anywhere that I might want to start lettering a verse, quote or song I might have just heard.  It is not a necessity but it certainly makes it so convenient to have the supplies already together & handy.
Extras: These are not necessary, but not only do they make the page pretty, they really do help me organize my page and think through the verses I have written.  Washi Tape is one of my favorite thing to use.  I use it as page tabs and to divide the page, or decorate the page.  I admit that I am a color nerd, so I bought notebook rings and I have my washi tape already sorted by color/design theme and on a ring, ready to grab and go.  I love when I have time to use washi tape and can choose my ink color to coordinate with the washi tape!  
STEP #3: THE WHEN & WHERE:  Show Yourself Grace
I think this is key to sticking with it.  Establishing my "why" is critical... I won't stick with it without the "why." Getting the "how" in place is important... having my tools easily accessible is going to help me get going & keep going. I have a weakness for pens, pencils & pretty journals so this step is fairly easy for me!
My "when and where" requires the most flexibility.  I do have a favorite place to sit & read or pray & journal, but I don't limit myself to one specific place. My church journal easily slides down in my purse or stacks on top of my Bible. My purse journal is small, but it's perfect to have handy while waiting at an appointment. 
Life happens, and I will often miss a day or a couple of days. I am a terrible dieter.  If I miss a day, I have a tendency to abandon the whole diet but I don't want to treat lettering scripture like a diet. So, when I get off track, it doesn't take long for it to show up in my attitude and behavior. 
It's remembering my "why" that draws me back for the refreshment and refueling of spending time in God's Word, praying His Word and then writing it on my heart and mind!
I hope you will give it a try! I would love to hear how it goes for you!
Sincerely,
Pam Coxwell | From the Heart Art
---
3 comments
---
---