A Sneak Peek at this Month's Box: June - Praying to the God of Hope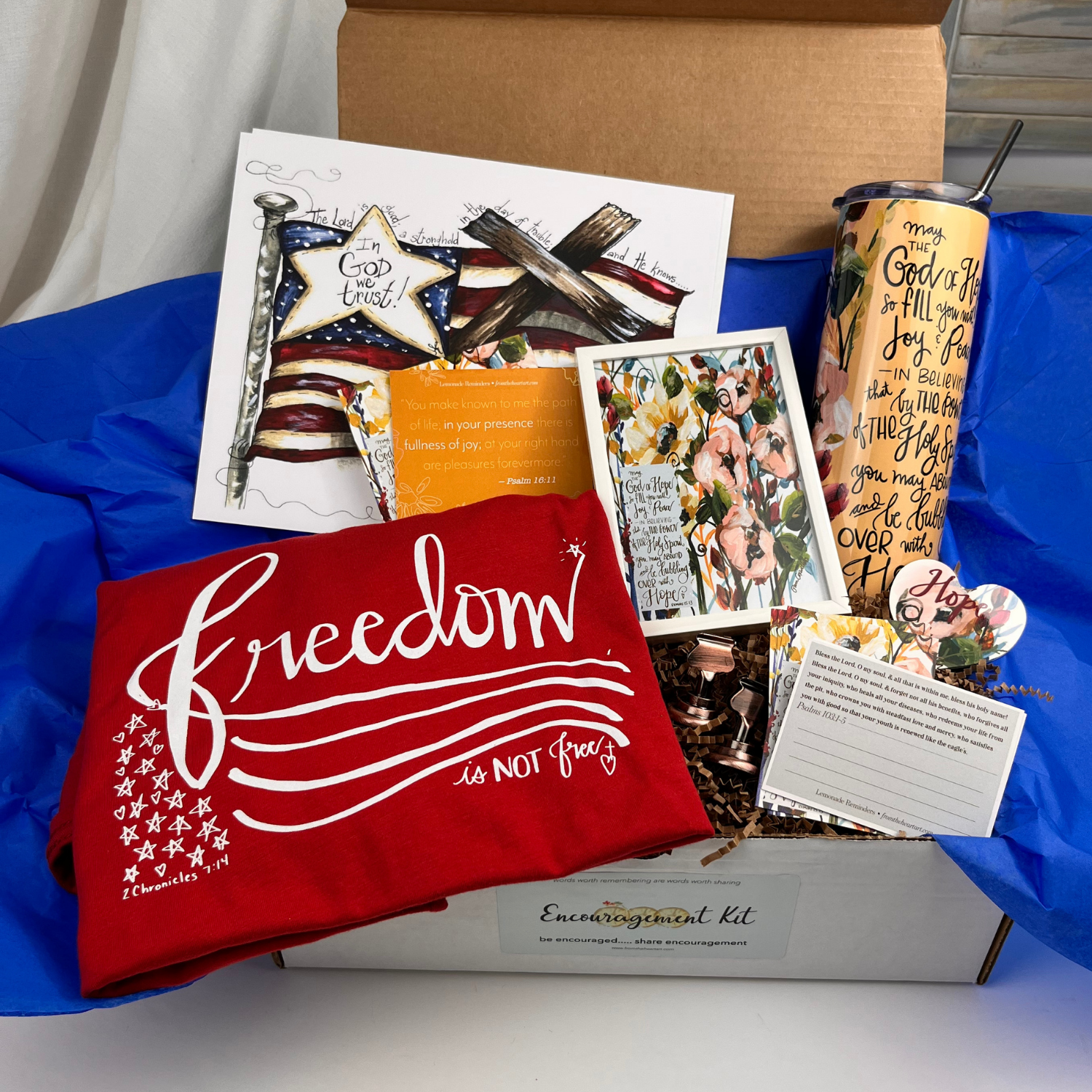 "MAY THE GOD OF HOPE SO FILL YOU WITH JOY & PEACE IN BELIEVING THAT BY THE POWER OF THE HOLY SPIRIT YOU MAY ABOUND AND BE BUBBLING OVER WITH HOPE." ROMANS 15:13
"So if the Son sets you free, you are free indeed." John 8:36
Freedom is not free, it comes with a price! Just as each of us was bought at a price, the price of Our Savior laying down His life so that we may be FREE! Free from sin, Free from death, Free from the weight of our own destructive nature. 
That is what we want you to remember when you open the June Lemonade Reminder Encouragement Kit! 
May we pray to the God of Hope for our country and those who serve it! The soldiers who protect us, who have given their lives for us. May we remember them and continually pray for them; not only on Memorial Day and the Fourth of July/Independence Day, but every single day. Those men and women don't stop serving us just because we stopped the celebration of our freedom. They continue on. The continue for people they do not know, for people who might never thank them, for people they will never cross paths with.
So let us pray for wisdom, discernment, protection, and HOPE, to not dwell on the disparity of it all, for encouragement, for a sense of community that we support them!! It is the least we can do when they have given up so much for our comfort. 
Theres a quote by Corrie Ten Boom that I always like to remember; I could not say it better myself!  "If you look at the world, you'll be distressed. If you look within, you'll be depressed. If you look at God, you'll find rest." 
When you subscribe to Lemonade Reminders, our goal is to equip you with everything you need to BE Encouraged and SHARE Encouragement with others!! 
I leave this prayer for every single one of you... Thank you Father, thank you for being our God of HOPE. YOU paid it all and we can never repay you. Thank you for loving me, thank you for protecting me! Thank you for the Freedom you have given me. 
Lemonade Reminders is open NOW! Click here to JOIN & BE ENCOURAGED. Let us serve you and help you remember to be filled up by the God of Hope and His Encouragement.  
P.S. if you haven't heard the song "Man of Sorrows" I suggest giving it a listen! 
---