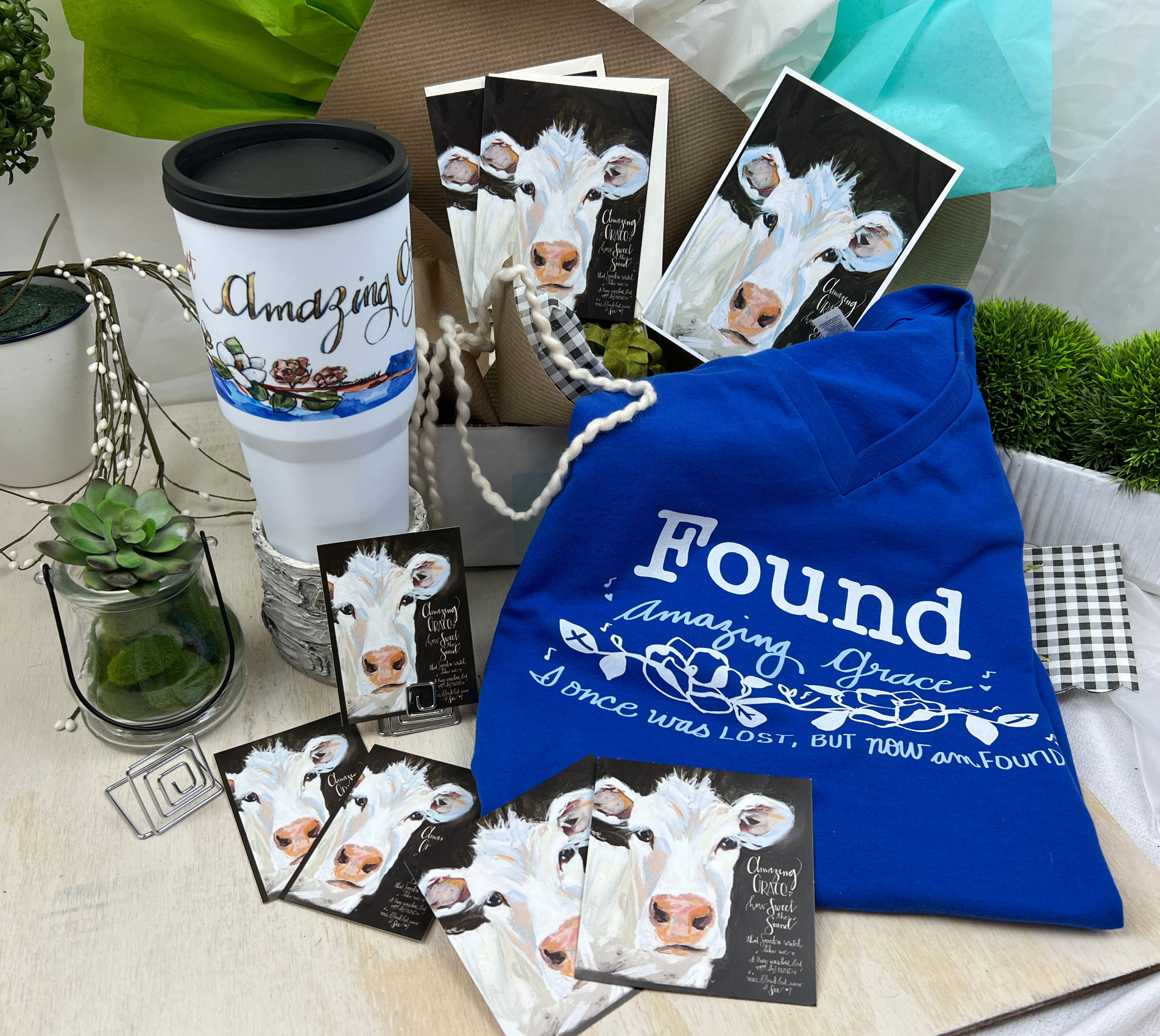 Some of my most cherished childhood memories involve time spent on my grandparent's farm in south Alabama.  They lived in an old white farmhouse.  I have memories of the kitchen table that held big dishes of delicious food with all the adults packed around the table.  I remember the amazing aromas created in the cast iron skillets sizzling on the stove top.  There was a chicken coop out back with an endless supply of fresh eggs and an enormous garden. As a child helping pick peas or digging potatoes, I really felt there was no end to that garden!   I still shiver when I remember under the house!   It was the cool, damp and dark home to all the potatoes and onions gathered from the garden. I can still remember the smell of the rich dirt.  An old dilapidated house and an old barn were some of our favorite places to explore. 
We loved to "help" Grandaddy in the fields.  It was the home to cows and bulls and adorable calves.  We could take turns sitting in his lap to help drive or ride in the back.  We took turns jumping out to open the gates, we played in the creeks and explored the fields.  I loved my grandaddy's laughter and the twinkle in his eyes.   It was on the dirt road in front of their house that I learned to drive.  At the end of the dirt road was the little white church my grandaddy attended every Sunday.   When all the grandkids were visiting he always took us with him.  He made sure to volunteer us to sing a "special" for the congregation.  
Amazing Grace was his favorite.   As a child, I could tell it was a favorite of so many of the church members.  I remember their voices bellowing even louder when we sang that hymn.  It was as if it was coming from the depth of their being! 
As a child, I didn't understand what made that song so special, and why it would bring tears to some of their eyes.  I knew it brought joy to Grandaddy, so that's all that mattered to me.  It was in his presence that I experienced unconditional love and acceptance. He was such a joyful and kind man.   I knew he delighted in me and truly enjoyed having me with him.  I truly enjoyed being with him.  So singing a song that I was confused by, didn't really matter because I knew it was his favorite.  Everyone else knew it was his favorite too!  
I was 15 years old when Grandaddy died.   It was completely unexpected.  I think it was the first time I felt such deep heartache, it felt like my heart was broken.  It seemed so unfair.  We still needed him.  Life would never be the same.  We had lost the kindest and most gentle man I knew.   The funeral was at the little white church, but this time it was the choir singing his favorite song, and mine were the eyes with tears.  God has used the time I spent with my grandaddy to teach me so much about Himself.  Sometimes I still tear up thinking about him and the joy he expressed when we arrived at his farm. 
When I became a mother, I understood even better about the love a parent has for their child.  When I became a grandparent, my world & my heart opened up in a brand new way!  I understood that look in my grandaddy's face so much better.   What a precious gift he was to my life!  Because of his joyful love for me, I understand my heavenly Father's love a bit better.
In the past, when I've heard the line from Amazing Grace,  "I once was lost, but now am found" I've always thought of it from my own perspective… me realizing I was lost.  That IS amazing grace to have my eyes opened and to realize that I'm lost and in need of being found.  Have you ever witnessed a child wander away from their parents in a store?  The child has no idea they are separated from the parent or that the parent is frantically looking for them.  Now, imagine the joy and relief the parent or grandparent feels when they spot their child and fling open their arms wide to receive their precious child… that IS also Amazing Grace!   I once was lost…. but NOW am found!  . 
---