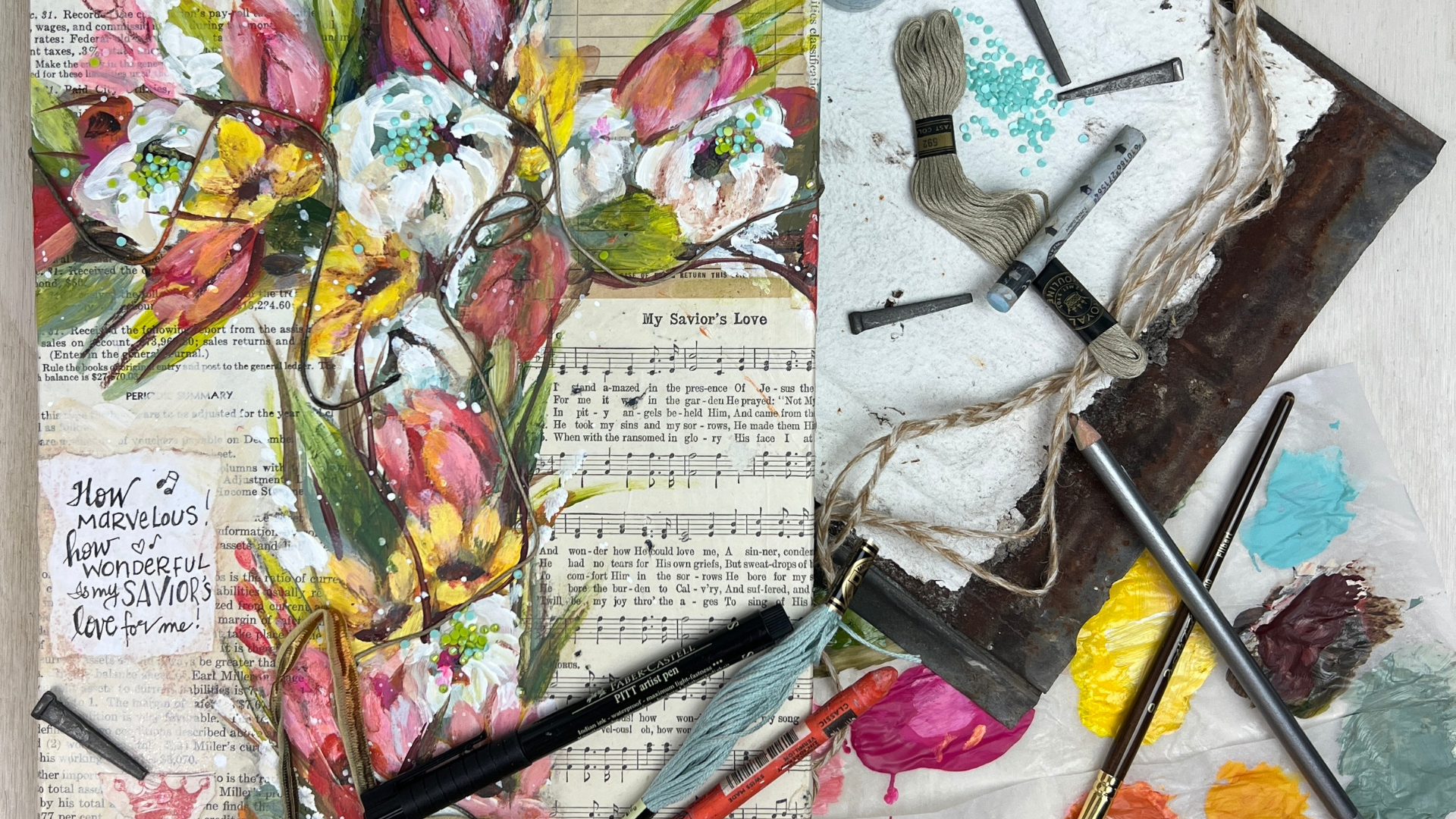 Capture Creativity in the Mixed Media Club!
Find JOY in using your own creativity, plus found objects and a few art supplies, to create your own beautiful artwork.  Your creativity can become a tool to express your faith and weave a story throughout each layer.
Join the Club!
The Mixed Media Club is perfect for you if you want to:
Explore Your God Given Creativity
Each month, we will use a variety of painting techniques to explore your connection with GOD and learn how to create multi-dimensional paintings.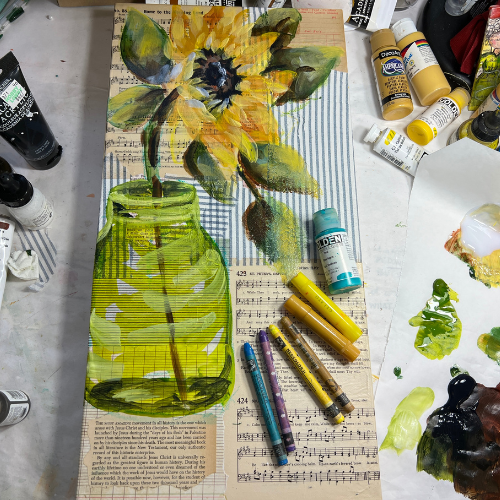 Celebrate Faith with Friends!
One of the best parts about the Mixed Media Painting of the Month Club is that you'll be surrounded by a community of encouraging and creative Christian women.
Learn New Creative Skills
Each monthly painting will explore new creative techniques and concepts while DEEPENING your relationship with GOD and HIS WORD.
Hi, I'm Pam Coxwell!
I'm the owner and artist of Pam Coxwell Designs. I am blessed with a business that allows me to put my faith and creativity into practice on a daily basis.

Through my art and memberships, I help busy Christian women strengthen their faith and reduce stress by unlocking their own GOD-GIVEN creativity to connect with PRAYER, WORSHIP, and THE WORD.

I will teach you basics of Mixed Media, how to use found objects to create a background that tells a story!
Pam's teaching method is perfect for us beginners and the help from the more experienced artists in the class has been great. I've been in a bit of a funk lately and this class was just what I needed to find some peace and creativity. Thank you!
I have enjoyed the mixed media workshop! I have picked up some helpful tips and new tricks. Sparked a notion to pick up the paintbrush again! Mostly I have found a group of ladies who have a passion for the Lord and creating. A rare combination. I would do this again for sure!!
Pam is one of the best instructors I have ever taken an art class with. She describes everything so well and in detail. She is super patient and extremely talented. I would recommend her classes to everyone
I loved the March Media Painting class, and I have signed up for the monthly club! Pam is so easy to follow and she gives such good directions! She is a blessing to all who hear her and see her paint. Can't wait for more!
Frequently Asked Questions
Perfect! All skill-levels are welcome and will benefit from our Mixed Media Monthly Painting Club sessions. We cover a broad range of skills and topics that are accessible and helpful for both beginners and seasoned painters.
No problem! The classes will be available in our private Facebook Group and our course hub for you to learn with any time!
How long can I access the tutorial videos?
We understand that sometimes things change. If you need to make a change to your membership, please contact hello@pamcoxwelldesigns.com for assistance.