We've Split! Just Our November Encouragement Kits Though!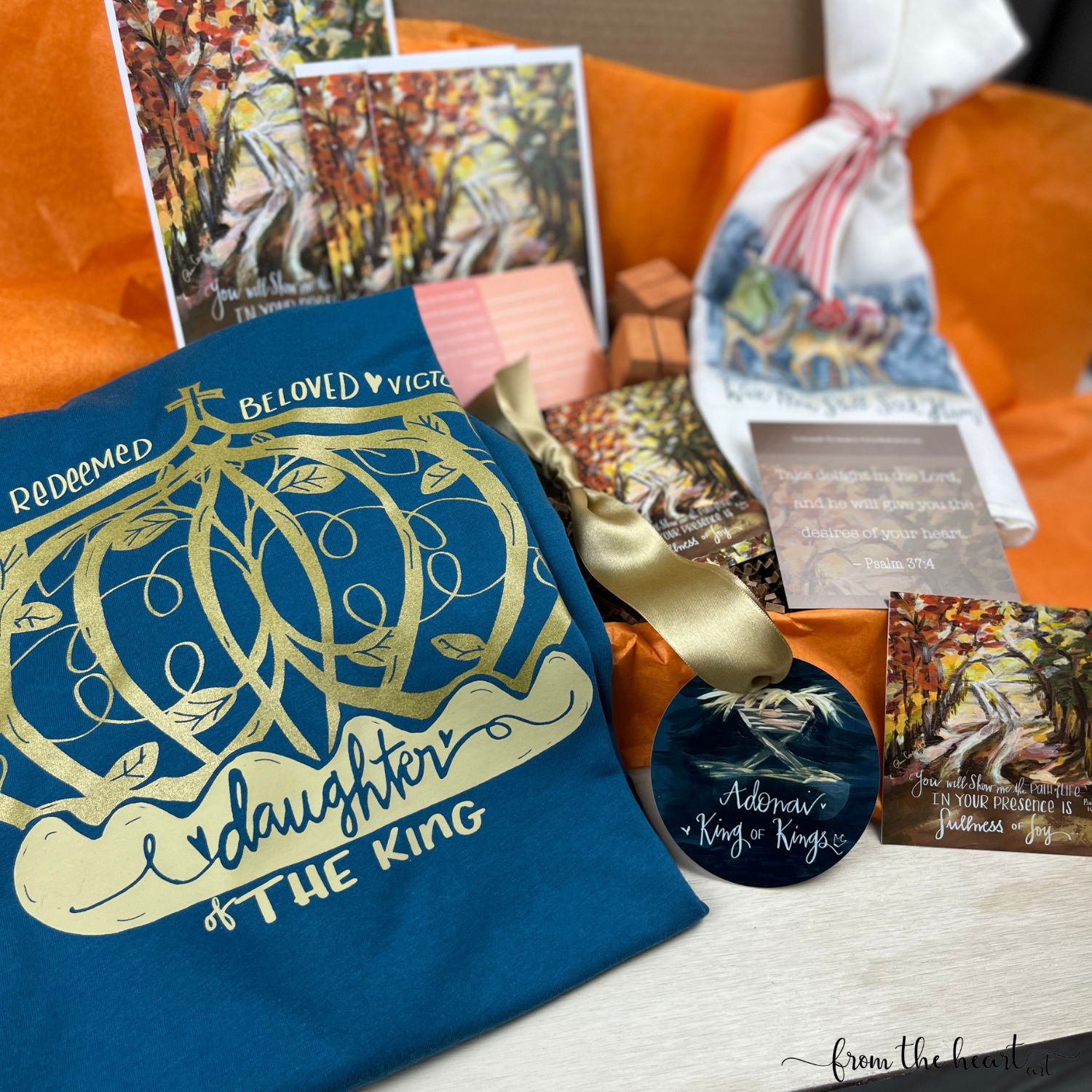 Let me be honest with you... we could not decide on the products in November's Encouragement Kit subscription box. The design for the box is our Fullness of Joy Path design. And I think we can all agree it is VERY FALL! 
But we realized that November is also the start of the Holiday Season for most people, which is also our busiest season at From the Heart Art. As we are coming to the end of Fall and heading into Winter, we are just consistently praying to God for guidance and to keep us on the right path as a small business. 
We are including several products with our Fullness of Joy Path design since that is our theme design and verse, which will help you decorate for Fall.
But as we prepare to usher in Christmas, we wanted to include extra presents for our subscribers! One of the products is a flour sack towel with one our newest Christmas designs, the Wise Men. We are most excited about the reversible ornament with the Adonai Manger and Names of Jesus on it. 
Then to follow along with our Lemonade Creative Scripture Lettering Courses, we wanted to have a product that specified who we are in Christ; a Daughter of the King! So Pam created a design for our t-shirt with the reminder of who we are in Christ!
So that is the story behind our November Encouragement Kit, we've just split it up because we wanted to put the final touches on the Fall season, but also start sprinkling in some Holiday cheer for you! 
We also have an *exclusive* item coming in our December Encouragement Kits to get you ready for the new year! It begins with a P and ends with an R and is good for planning... Any guesses on what it could be!?
If you are interested in joining this exclusive monthly subscription kit, and getting a refill of encouragement every month, then we would love to have you! Click on the link to get more information, https://pamcoxwelldesigns.com/pages/lemonade-reminders.
---