A Few Ways to use Scripture Journaling as a Tool To Help Strengthen your Faith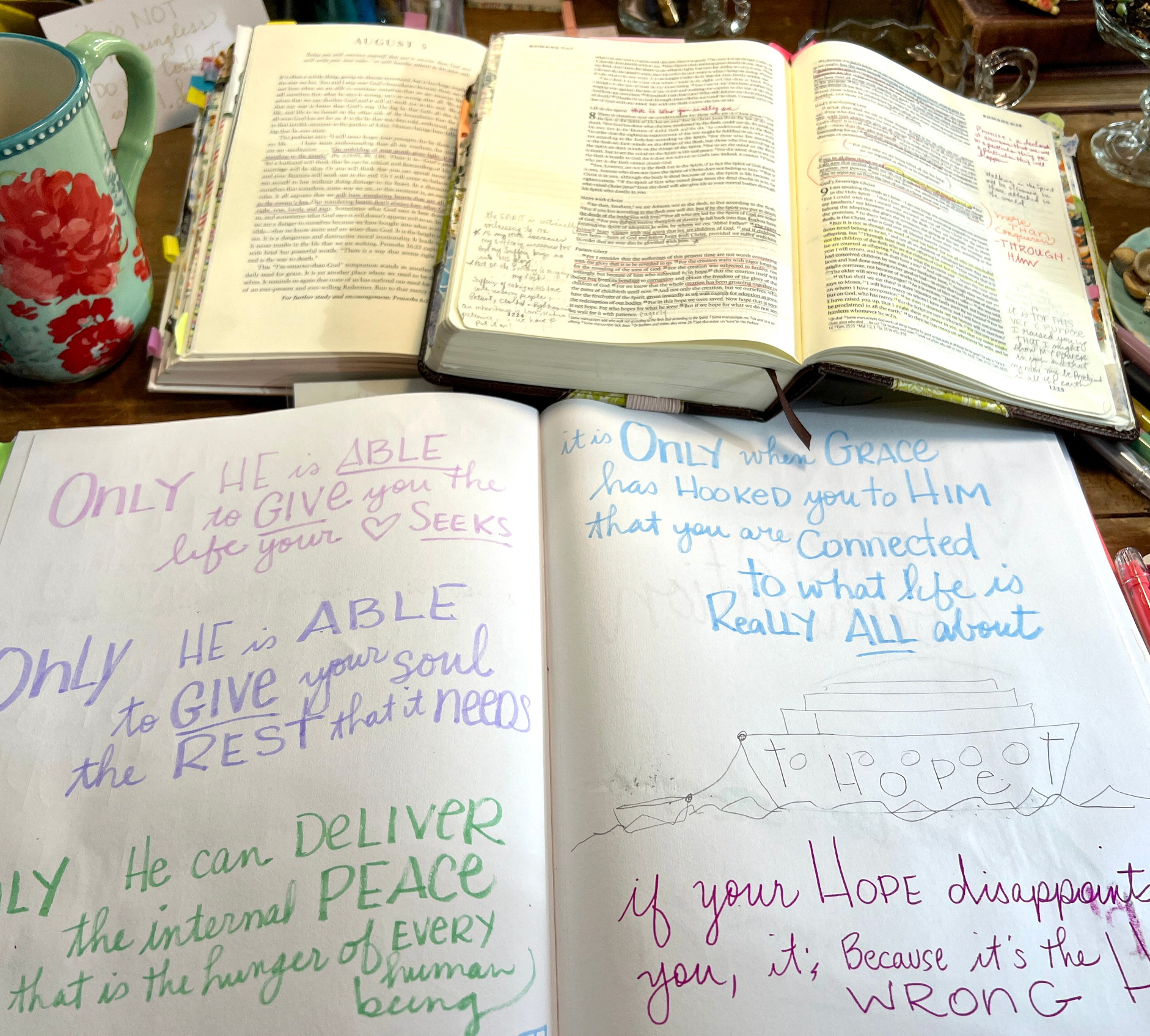 Guiding women in finding joy in using their creativity brings ME so much joy! That's because using my own creativity has been a life changing experience.   It has touched all parts of my life.   
During the months that I was on bedrest with my youngest daughter, God opened a door for me to use my creativity in a very special way…. from our couch, surrounded by tables full of art supplies.  That time spent creating helped redirect my mind from worrying about the crisis happening within my body and also affecting my unborn baby girl.   The  time spent creating was settling my mind ,and God was also using that time to minister to my heart.   
There have been many times since those months of bedrest that God has used the gift of creativity to settle me, to teach me, to refine me, to encourage me, to provide for me, and to restore joy to me.  When I learned that my creativity could help me not only remember scripture, but that it could help me break it down to better understand it and apply it to my life…. Everything changed.  
Using  my creativity has been a tremendous help to me throughout the years, but The Art of SCRIPTURE JOURNALING has been life changing.   I love sharing about it anytime I have an opportunity.  
I have a new series planned for our Lettering and Scripture Journaling group to do a deeper dive into scripture journaling, but I wanted to share a few tips with you here.  If this is something that tugs on your heart, I hope you will consider joining me and the Creative Hearts ladies in our monthly group!
A Few Things About Scripture Journaling:
It is similar to Bible Journaling. but we work in a separate notebook or journal so that we have room to break the Bible verse down.

We learn to listen for KeyWords.  KeyWords are those words that "stand out" to you or grab your attention.  They can also be words that the Holy Spirit pricks your heart about or you just know you need to learn more about it. 

There are 5 Lettering Helpers that we can use in our lettering to help us emphasize and bring attention to Key Words in the passage. 

Style 

SIZE 

Spacing

Color

Pattern

I have found that having a Notebook or journal  for scripture journaling and having supplies handy and easy to grab really make it easier.

I also use this process when reading devotionals and also when I hear hymns or songs that I want to understand better and remember the Truth filled words.

Scripture Journaling reminds me of gardening.  Each time I hear words of Truth it's like planting a seed in my heart and mind.  Each time I  take action it's like tapping the seed.  Writing the words down is tapping the seed deeper into my heart.  Breaking the passage of scripture down into bite sized pieces is another tap.  Praying and asking the Holy Spirit to show me how I need to apply these Truth filled words to my life, is another tap.  Taking action…another tap.

Tending  to yourself spiritually takes time, but it is time well spent.
Here are a few pictures from my journal.   If you are visual like me, they might be helpful to better understand what I'm talking about!  I hope you will consider to give it a try.  Whether its with our  Scripture Journaling Kit with a workbook & starter supplies or by joining our monthly group, I would love to help you get started
Want to explore your scripture journaling further?
---